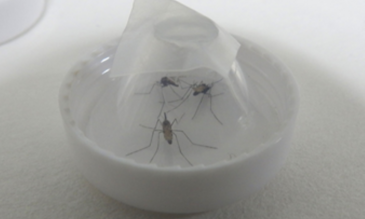 The insecticide susceptible Anopheles gambiae s s Kisumu strain was used to test the killing effect of deltamethrin applied to a glass surface in a novel way as part of a Confidence in Concept project 'Development of smart materials for insect vector control' in partnership with Dr Mark Paine and Professor Rasmita Raval, University of Liverpool, Interdisciplinary Research Centre. Because of the method used, round coverslips (radius 1.2cm, 4.524cm2) were treated with the insecticide, a surface too small to be used in LITE's standard tarsal assay.
A novel bioassay was therefore developed for the project, whereby coverslips were placed into the lid of a 3ml sample pot (diameter 30mm, height 16mm) and the conical bottom of a plastic 50ml centrifuge tube was cut and fitted into the lids. Three mosquitoes per surface were introduced into the conical bottom through a drilled hole covered with parafilm and exposed to treated coverslips for 30 minutes. Post exposure mosquitoes were transferred to holding cups to be scored for mortality 24 hours after exposure. Treated coverslips were tested on the day of preparation and eight and fifteen days later to track the residual efficacy against mosquitoes. With 3 replicates per concentration, the assay was able to detect a reduction in efficacy of the insecticide over time, and show that this phenomenon was concentration dependent.
Box and Whisker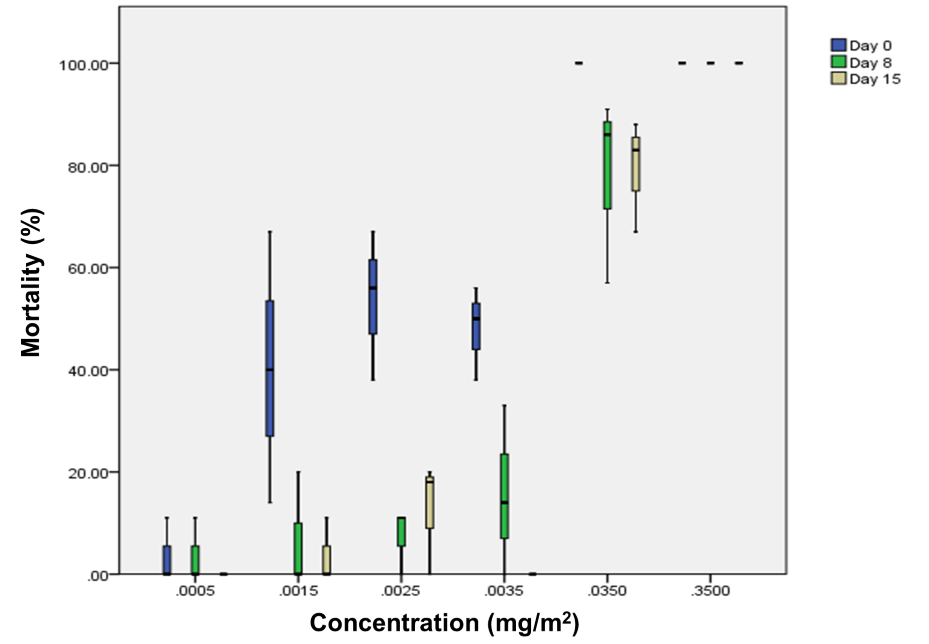 Figure. Median percent mortality of Anopheles gambiae Kisumu recorded at 24 hours post exposure to deltamethrin.