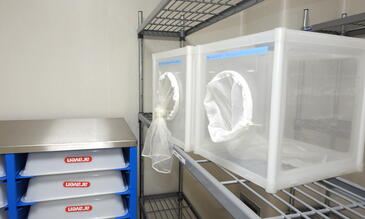 LITE maintain a large repository of fully characterised insecticide susceptible and resistant mosquito colonies of the genera Anopheles, Aedes, and Culex, for on-site laboratory testing. Climatic variables, including day length, lighting levels, temperature, and humidity, can be adjusted in our insectaries to ensure all our mosquito species are housed in optimal conditions.
All colonies undergo regular quality control checks that include genotyping to verify species ID and record the prevalence of known insecticide resistance alleles.
Resistant colonies are all maintained under regular insecticide selection pressure and are profiled using discriminating doses of insecticides to confirm and maintain their resistance phenotype.
LITE maintains close links to the VBD and when new mutations or resistance mechanisms are identified, we screen our colonies for these new markers for further characterisation.
Upon request, LITE can arrange to access additional insecticide resistant strains reared by the VBD at LSTM, or to acquire and rear your colony of interest for testing. Subject to MTA agreements, we are also able to provide supplies of mosquito eggs or testing-age adults. Please get in touch to discuss your specific requirements.
Species

Strain

Country of Origin

Resistance phenotype

Anopheles gambiae

Kenya

Susceptible

Côte d'Ivoire

Resistant

Anopheles

coluzzii

Burkina Faso

Resistant

Burkina Faso

Resistant

Anopheles funestus

Angola

Susceptible

Mozambique

Resistant

Anopheles arabiensis

Mozambique

Susceptible

Burkina Faso

Resistant

Aedes

aegypti

USA

Susceptible

Grand Cayman

Resistant

Culex quinquefasciatus

Tanzania

Resistant
Further information about these colonies can be found in the following publications: